State of the State, Day IV
This morning, with his fourth and final 2021 State of the State address, Governor Cuomo discussed initiatives to rebuild New York by investing billions into infrastructure improvements throughout the State.  The Governor discussed the following projects during his address:
Midtown West Redevelopment in New York City

Replacing the Port Authority Bus Terminal
Developing the Empire Station Complex
Affordable Housing and Community Restoration
New Waterfront Park at Pier 76
Javits Center Expansion

Modernizing New York Airports

Continue to build the new LaGuardia Airport
Continue the transformation of JFK Airport
Upstate Airport Economic Development and Revitalization

Improving Mass Transit for Millions of New Yorkers

Phase II of Second Ave Subway Extension
LIRR Third Track Project

Updates to Highways, Roads and Bridges

Access to Hunts Point
I-390/490 Interchange Improvements
Re-deck the Newburgh-Beacon Bridge
Replace the Syracuse I-81 Viaduct

Additional Infrastructure Updates

Buffalo Skyway
Albany Skyway Conversion
Binghamton University Health Sciences Campus
New Mohawk Valley Health System Hospital in Utica
Complete the Belmont Arena
Bay Park Reconstruction
ROC the Riverway
LEGOLAND
New Whiteface Mid-Station Lodge
The full press release on today's State of the State address appears at the conclusion of this memo.
Orange Zone Restaurants Can Operate Under Yellow Zone Rules
A State Supreme Court decision yesterday temporarily granted select restaurants located within an Orange Zone in Erie County the ability to resume indoor dining under the rules governing Yellow Zones.  While the State reviews this decision, the Governor's Office today announced that all restaurants operating in Orange Zones in New York State can now operate under rules governing Yellow Zones.  The applicable Yellow Zone rules are as follows:
Indoor and outdoor dining permitted
4 person maximum per table
Bars and restaurants close at 10:00 PM for on-premises consumption
Indoor dining in New York City remains suspended.
New Covid-19 Vaccination Site in Washington Heights
Governor Cuomo and NewYork-Presbyterian today announced the launch of a new COVID-19 vaccination site for New Yorkers at the Fort Washington Armory in Washington Heights, Manhattan. The site, located at 216 Fort Washington Avenue at the corner of 169th Street, is offering COVID-19 vaccinations to individuals over the age of 65 with scheduled appointments only beginning today, January 14.
To make an appointment at the Fort Washington Armory site, NewYork-Presbyterian patients aged 65 and older can use the ColumbiaDoctors, Weill Cornell Medicine, and NewYork-Presbyterian Connect online patient portal.  Patients who do not have a Connect account and people over age 65 who are not ColumbiaDoctors, Weill Cornell Medicine, and NewYork-Presbyterian patients can set up an account by visiting VaccineTogetherNY.org.
New York City
Mayor de Blasio today released his Fiscal Year 2022 Preliminary Budget, which includes ways to combat the $5.2 B deficit the City faces in the coming fiscal year. More details to follow, as the budget announcement continues.
New York State COVID-19 Numbers
The statewide positivity rate yesterday was 6.42% with 8,823 hospitalizations, a decrease of 106 people over the previous day. There were 202 COVID-19 deaths in New York State yesterday.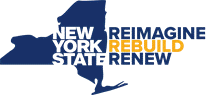 | | |
| --- | --- |
| For Immediate Release: 1/14/2021 | GOVERNOR ANDREW M. CUOMO |
GOVERNOR CUOMO OUTLINES 2021 AGENDA: REIMAGINE | REBUILD | RENEW
In 11th State of the State Address, Governor Advances Bold Agenda for Building New York's Infrastructure
$306 Billion Infrastructure Plan – Largest in the Nation – to Invest in the Future of New York
Historic $51 Billion Plan to Redevelop Manhattan's Midtown West Neighborhood, Including the Replacement of the Port Authority Bus Terminal
Massive Investments to Bring the State's Airports and Transportation Infrastructure into 21st Century

Investing in Upstate Infrastructure to Spur Commerce, Tourism and Create Jobs
Governor Andrew M. Cuomo today delivered his 2021 State of the State address. The Governor's 2021 agenda – Reimagine | Rebuild | Renew – features a suite of initiatives to not only begin reopening New York as the state continues its work to defeat the COVID-19 virus, but also investing billions into infrastructure improvements to build a new New York. As part of these efforts, Governor Cuomo has put forth a number of proposals focused on transforming Manhattan's Midtown West neighborhood, including building a new Port Authority Bus Terminal, rebuilding the state's airports, and improving transportation infrastructure to create jobs, spur economic development and bring existing infrastructure into the 21st century.
Earlier this week, the Governor announced proposals to win the war against COVID-19, by addressing New York's short-term economic issues, ensure social and racial justice, and reopen the state while growing the green economy.
"I sit in the office and live in the home occupied at one time by FDR. Part of Roosevelt's genius was that he understood that it was not the buildings and programs themselves that actually turned around the economy, it was the people," Governor Cuomo said. "Building new projects enhances day-to-day life. Seeing progress lifts peoples' spirits. And building with bricks and mortar also builds public optimism and confidence."
Governor Cuomo continued, "History teaches us that when the private economy is lagging the public sector can spur activity. That when unemployment is high, the public sector can create jobs. That only the public sector can build the common economic platform for growth. Across the state, we're now building bigger and better, and laying the foundation for our future. Not even COVID stopped us. We used the period of reduced traffic to accelerate projects throughout the state. Altogether we are expanding our infrastructure plan to invest $306 billion in the future of New York. That's not just the largest infrastructure plan in New York history. It's the largest, most ambitious plan put forward by any state in the nation."
2021 REIMAGINE | REBUILD | RENEW HIGHLIGHTS
Midtown West Redevelopment in New York City: New York State has long led some of New York City's most successful and transformational macro-development projects, from Battery Park City to Roosevelt Island, to the transformation of Times Square. This year, the Governor has already announced the opening of the $1.6 billion Moynihan Train Hall, New York's most ambitious transportation and infrastructure upgrade in decades, and plans to extend the High Line to Moynihan Train Hall. In 2021, New York State will build on that progress to complete the buildout and connectivity of Midtown West with a bold transit-oriented development plan. The $51 billion plan will create 196,000 jobs, new outdoor spaces, affordable housing, improved public transit and pedestrian connections, and bring commercial and affordable housing opportunities to the burgeoning Manhattan neighborhood. The multi-faceted plan includes:
Replacing the Port Authority Bus Terminal: The Port Authority of New York and New Jersey will replace the outdated terminal with a new state-of-the-art facility to better serve the over a quarter million daily passengers. The project will not only reduce congestion on city streets and improve air quality but will transform mass transit to and from the West Side of Manhattan. Renderings of the future bus terminal are available here.
Developing the Empire Station Complex: With the completion of the Moynihan Train Hall, which opened to the public on January 1, 2021, the State will turn its attention to the existing Penn Station, just across the street. The State will start on a comprehensive $16 billion project to reconstruct the existing station and add track capacity. By acquiring property south of Penn Station, we can expand the complex to 40 percent more train capacity and at least eight additional underground tracks to cut down on delays and improve operations for the more than 600,000 passengers it serves daily. Renderings for the reconstruction of the existing station can be found here.The signature transportation project will create nearly 60,000 direct jobs, and New York State stands ready to work with New Jersey Transit, Amtrak, and the federal government to share in this historic investment for the future of the region. The transformation of Penn Station also anticipates the Gateway Project, including two tunnels to bring more trains across the Hudson from the west and the renovation of the two existing tunnels, for a total of four train tunnels from New Jersey and beyond.
Affordable Housing and Community Restoration: With the new transportation complex as a cornerstone, the Midtown West development will also include new housing and commercial development opportunities in the area. In total, the area spanning from Broadway to the Hudson will include up to 14 buildings that will yield more than 20 million square feet of retail, commercial, and residential development and provide up to 1,400 much-needed units of affordable housing in a transit, job, and amenity-rich community.
New Waterfront Park at Pier 76: Located west of the Javits Center and 36th Street, the State will transform Pier 76 from an NYPD car tow pound to a 5.6-acre expansion of Hudson River Park. In the short term, it can become a magnificent public space that allows visitor access to the waterfront while the Hudson River Park Trust develops plans for the Pier's long-term future. Renderings of Pier 76 are available here.
Javits Center Expansion: The 1.2 million-square-foot, $1.5 billion expansion of the Jacob K. Javits Center will be completed in 2021, increasing capacity of the nation's busiest convention center by 50 percent. The expansion will include a rooftop pavilion and outdoor terrace for 1,500 people; a one-acre rooftop farm; a 54,000-square foot special event space with Hudson River views; 90,000 square feet of new exhibition space that will create 500,000 square feet of contiguous exhibition space; and a truck marshaling facility to reduce congestion and pollution.
Modernizing New York Airports:
Continue to build the new LaGuardia Airport: New York will continue the historic $8 billion transformation of LaGuardia Airport. Upon receipt of a positive record of decision from the federal government, New York State will continue work on the $2 billion AirTrain LaGuardia. In addition, the vast majority of the roadway network will be completed this year and marks significant progress on Delta's new state-of-the-art terminal and concourses on the east side of the airport. When complete, the new LaGuardia will be the first new major airport built in the United States since 1995. The new LaGuardia will serve more than 30 million passengers per year and will have created 14,000 jobs.
Continue the transformation of JFK Airport: New York State will continue the $13 billion plan to transform John F. Kennedy International Airport into a modern airport built for the 21st century. When complete, the brand new JFK will safely and efficiently serve more than 75 million passengers per year. The project is also slated to create nearly 30,000 jobs. As part of the JFK Airport transformation, the State is modernizing the Kew Gardens Interchange, which serves more than 200,000 vehicles daily. The final phase of this $700 million project will be complete in 2022.
Upstate Airport Economic Development and Revitalization: Building on a $200 million investment through the Upstate Airport Economic Development and Revitalization Competition, the Governor will commit an additional $100 million in round two funding for continued renewal and modernization. Funding will include enhanced securityscreening, expanded and rehabilitated terminals, stateofthe-art boarding concourses and concession areas, and innovations in contactless technology.
Improving Mass Transit for Millions of New Yorkers:
Phase II of Second Ave Subway Extension: The MTA remains in desperate need of further federal funding so it can continue its essential role in supporting the region. That said, it is committed to implementing its historic $51.5 billion 2020-2024 Capital Plan. Upon resolving funding uncertainty caused by COVID-19, MTA will get this program back on track with repair projects, signal modernization, and ADA accessibility projects progressing in 2021. Other projects supported include upgraded stations, thousands of new buses and train cars, and critical maintenance and upgrades for bridges, tunnels, and other infrastructure. In addition, with necessary multi-year federal support, MTA will further extend the Second Avenue Subway, from 96th Street to 125th Street.
LIRR Third Track Project: The Long Island Rail Road's historic and transformative third track project will complete a new third track along a critical 9.8-mile section of LIRR's Main Line between Floral Park and Hicksville to increase track capacity, improve reliability, and significantly enhance service for LIRR customers. The $2.6 billion project also includes the construction of additional parking garages, the renovation of stations, new and renovated bridges, and modern track and signal infrastructure. By the end of 2021, MTA will have completed all eight of the grade crossing eliminations on the mainline, six of which will have new vehicular underpasses.
Updates to Highways, Roads and Bridges:
Access to Hunts Point: New York State will invest $1.7 billion to create direct access to and from the Bruckner Expressway and Sheridan Boulevard for trucks serving the Hunts Point Food Distribution Center. The highway redesign will take traffic off local roadways, significantly reducing both noise and air pollution in a borough with high asthma rates. The entire project is scheduled to be completed in the fall of 2025.
I-390/490 Interchange Improvements: In 2021, the State will complete a $150 million project to ease access and improve traffic flow along Route 31, Route 390, and the Interstate 390/490 Interchange in Monroe County. This interchange will serve as a vital connection for nearly 200,000 motorists daily.
Re-deck the Newburgh-Beacon Bridge: The State will continue work on the Newburgh Beacon Bridge to complete a full deck replacement on the north span of the bridge over the Hudson River. Re-decking will improve roadway safety, drivability, and durability. This $95 million investment will be complete in 2022, nine months ahead of schedule.
Replace the Syracuse I-81 Viaduct: The State will conduct an environmental and public review of its proposal to replace the Interstate 81 viaduct in Syracuse. This $1.9 billion project will connect communities and create opportunities for new residential and commercial development. The project is expected to break ground in 2022.
Governor Cuomo also announced progress on a number of major infrastructure updates across New York State that invest in communities to open new public spaces, attract tourism, and create jobs.
Buffalo Skyway: Governor Cuomo initiated a large-scale planning and design effort to maximize waterfront access and free up to 45 acres for development through the removal of the Skyway Bridge in downtown Buffalo and transform it into a spectacular park. New York State will complete the environmental review process this year and, with federal approval, will be ready to break ground this year.
Albany Skyway Conversion: Through an $11.4 million partnership with the City of Albany, the State is converting an underutilized interstate exit ramp into an iconic linear park with a landscaped promenade, event spaces, and an accessible shared-use path connecting downtown Albany with the Arbor Hill and Sheridan Hollow neighborhoods, Albany's warehouse district, and the Corning Riverfront Park. Construction will be completed this year.
Binghamton University Health Sciences Campus: In 2021, Binghamton University will complete construction of its transformational, $287 million, 13-acre Health Sciences Campus in downtown Johnson City. This includes the 108,000 square-foot Decker College of Nursing and Health Sciences, which will welcome hundreds of students this Spring; a new 105,000 square-foot school of Pharmacy and Pharmaceutical Sciences with more than 350 faculty, staff, and students; a new eldercare teaching clinic in partnership with Lourdes Hospital; and a pharmacological R&D facility. Overall this project will have created more than 225 new jobs and involved more than 200 construction jobs.
New Mohawk Valley Health System Hospital in Utica: This year, work will continue on Mohawk Valley Health System's $548 million new state-of-the-art hospital in downtown Utica. The 672,000-square-foot, nine-story, 373-bed facility is projected to be completed by 2023.
Complete the Belmont Arena: The Belmont Park Redevelopment is replacing 43 acres of underutilized parking lots with a 19,000-seat arena that will bring the New York Islanders hockey team back home to Long Island. The arena includes a world-class retail village, and a new hotel. New York Arena Partners is leading the 350,000-square-foot development, bringing $1.3 billion in private investment to the 115-year-old horse-racing facility. The project also includes the renovation of two nearby community parks, new community space, and the first new LIRR train station in 40 years. Construction is well underway, with completion of the arena slated for the 2021-2022 NHL season; east-bound LIRR service to open in fall 2021. In total, this project will create more than 12,000 direct and indirect jobs throughout construction and once completed.
Bay Park Reconstruction: The State has been working with Nassau County on the $439 million Bay Park Conveyance Project to reduce nitrogen pollution by more than 50 percent and to connect the plant to an existing ocean outfall. This $1.2 billion-plus investment will result in dramatic improvements in the water quality while stemming the rapid degradation of the marsh islands that provide a natural barrier for flood protection for southern Nassau County. In 2021, construction will begin on the Bay Park outflow system. Renderings of the Bay Park project are available here.
ROC the Riverway: The Riverway Rochester redevelopment project, supported by a $50 million New York State investment, will achieve several key milestones in 2021 with more than half its projects reaching completion, including the expansion of the Blue Cross Arena Exchange Expansion and the West River floodwall projects, as well as the continued construction of the major overhaul to Charles Carrol Park.
LEGOLAND: The 150-acre LEGOLAND theme park in Orange County will open this year. The $420 million investment will draw tourists back to New York after the pandemic and create approximately 1,000 jobs.
New Whiteface Mid-Station Lodge: The Whiteface Mountain rebuilt a $14 million mid-station lodge following a devastating fire in 2019. The new lodge is open for the 2020-21 ski season with limited services and will be completed this year.
###