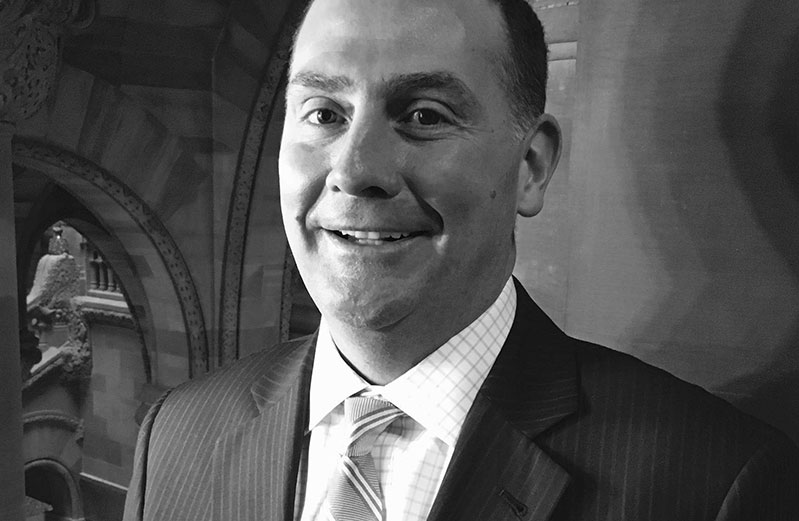 Kevin Banes comes to Statewide Public Affairs with extensive public and private sector experience. Most recently, he successfully managed the Albany office of e3communications Inc., a Buffalo-based public affairs and public relations firm. Serving as its director of government affairs, Mr. Banes led the firm's lobbying practice representing a myriad of interests before the Executive and Legislative branches.
With over 15 years of experience working in and around state government, Mr. Banes has managed a diverse portfolio of legislative and regulatory initiatives. He has lobbied on behalf of both public and private sector entities advocating on a wide range of policy areas that include health and human services, higher education, energy and technology, insurance, k-12 education, economic development, manufacturing and state procurement.
Mr. Banes gained firsthand knowledge of how state government operates while serving as legislative director for Assemblymember Kevin A. Cahill, managing the day-to-day operations of his Albany office. In this capacity, he was responsible for advancing the Assemblyman's legislative and budgetary priorities. Mr. Banes now utilizes these experiences to provide his clients with effective strategies that advance their priorities.
Mr. Banes also served as director of government relations for the School Administrators Association of NYS and the NYS Public High School Athletic Association. He continues to provide both groups with strategic advice on all legislative, regulatory and political matters impacting their memberships.
A Buffalo native, Mr. Banes began his professional career working for the United Way of Buffalo and Erie County, where he was responsible for directing the organization's community grant and outcome-funding allocation process. In addition, he worked to strengthen community/agency relations, managed several legislative advocacy efforts and was responsible for fundraising and managing numerous community-based projects.
Mr. Banes received his MPA from the University at Albany's Rockefeller College of Public Affairs and Policy, and holds a BA in Communication from the University at Buffalo. Over the years, he has worked on numerous political campaigns and other civic causes. In addition, he has volunteered with organizations such as Deaf Adult Services of Buffalo and St. Mary's School for the Deaf. Currently, Mr. Banes serves on the Board of Directors and Chairs the Government Advocacy Committee for Wildwood Programs in Albany.
CONTACT
Kevin G. Banes

Partner
EDUCATION
Rockefeller College Master of Public Administration
University at Albany
B.A. Communication
University at Buffalo
ABOUT
One Buffalo
K2 ikonic 80
Nike React